| | | |
| --- | --- | --- |
| Simone Felice Group - Bush Hall London Fri 27 Apr 2012 | | |
A lovely venue is the Bush Hall in London. Small, carpeted floor, chandeliers and nice enough sound.
Tonight is another in the long line of Simone Felice gigs we have attended over the past few years and, as usual the man does not disappoint. The first impression is Simone's rather stark and serve appearance as he steps onto the stage with the other members of the band, on his new 'solo' tour.
Slicked back hair, long black overcoat and pale complexion. He gives the look of a troubled soul. 'New York Times' kicks off the set and the intensity of the performance strikes a cord immediately. Beautiful voice, stained facial expressions as the lyrics are delivered. The intensity in the eyes is almost frightening. 'U&I Belong' follows and by the time of 'Summer Rain' the smile was on everyone's faces; band and audience alike and an intimate atmosphere had been created and was not broken during the entire length of the set.
As the evening progressed we started to get the stories around the songs on the new record. Many "to exercise a demon". 'Dawn Brady's Son' about a friend's father who committed suicide after returning from Vietnam and how his friend's Mother had coped afterwards to 'keep the light's on". 'Hey Bobby Ray' About a Indian girl abducted from a reservation and found dead the next day. A story that has been with Simone since his youth,
'Charade' about his Father and life as a carpenter and bringing up the family. ' Radio Song' gets dedicated to close friend and mentor, Levon Helm. Being the last song of the main set as well, it's delivered with a real fire.
Seamingly contented as a father, a version of Pink's Floyd's 'Wish You Were Here' is dedicated to his daughter during the encore. A final 'Knockin' on Heaven's Door' with the entire crowd singing along (with an unplugged Simone) ends an eventful, intense and emotional two hour set.
Tour dates still ahead and I can't recommend this man highly enough. Get to a show!
Pete
The Band were, Matthew Boulter (The Lucky Strikes) Lapsteel & Mandolin, Aurora Bangarth Drums, Simi Stone, Violin and Arthur House on the Keyboard.
Set List:
NY Times
You & I Belong
Summer rain
Dawn Brady's Son
Gimme All You Got
Shaky
American Song
Charade
If I Every get Famous
Don't Wake the Scarecrow Tonight
Union Street
Hey Bobby Ray
Radio Song
--------
Wish You Were Here
Your Belly In My Arms
Helpless
Knockin' on Heavens Door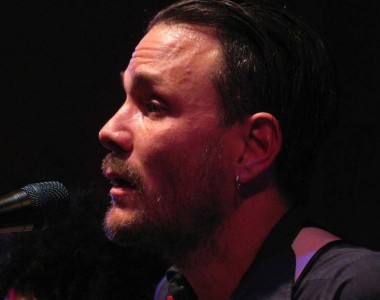 Photo by Ken Wallace
Please let us know your views of this gig, via our Message Boards